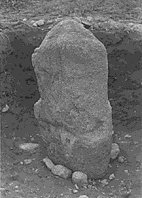 Standing Stone(Kawaradera)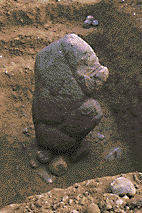 Standing Stone(Kawaradera)
Asuka-mura, Oka (height 2.5 m)
Asuka-mura, Jogo ( height 1.9 m)
Asuka-mura, Toyura (height 2.9 m)

These stand at three locations in Asuka-mura. The tate-ishi on the grounds of the Amakashi-niimasu Jinja (in Toyura) is said to have been used in connection with land allotments prior to the jori system. In addition to these worked stones. excavations have revealed a similarly shaped natural stone (height 1.6 m) which was stood on end along the bank of the Asukagawa east of the Kawaradera.