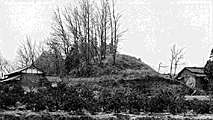 Tumulus constructed in two layers
(Iwayayama Kofun)
Rectangular tumulus
7th century Asuka-mura

This tomb has an exquisitely worked crypt of cut stones. The upper sections of the chamber walls slope inward, so that the ceiling Is narrower than the floor. As if in a calculated effort to make the en-trance corridor give an exaggerated appearance of depth, the entrance is relatively high and wide, while the passageway becomes both lower and narrower as one proceeds in-ward. Original plaster remains in the stone interfaces.