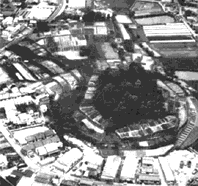 Aerial view of Maruyama Kofun
Historical Site 6th century
Kashihara-shi,Mise-cho/Gojono-cho

This is the largest of the zenpo-hoenfun (keyhole-shaped tumult) in Nara prefecture. 318 meters in length, it is the sixth largest kofun in the country as a whole, and is said to be the largest built during the 6th century. It boasts a stone crypt which is longer (26 meters, including the lateral entrance passageway) than any other in Japan. There are two stone coffins. in earlier times it was mistakenly thought to be the jointly occupied mausoleum of Emperor Tenmu and Empress Jito, who reigned at the end of the 7th century.