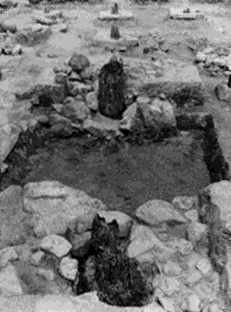 Hottate-bashira at the supposed site of
Itabuki-no-miya.
Man'yoshu No. 50

Composed by one of the workmen engaged
in the building of the Fujiwara palace

Our sovereign who rules in peace
Child of a high and shining sun
To govern the land at her command
Conceived in godlike fashion
To bring into lofty being
A palace at Fujiwara. whose name
Reminds us of rough woven fiber.
Besides both earth and heaven
Are drawn together in this intent.
Into Yasoujigawa of warrior fame
We have sent floating like seaweed
Bundles of cypress logs fit for lumber
From sleeve-like Tanakamiyama
In Omi-no-kuni of stone-running streams.
Taking these up. the boisterous folk,
Forgetting their homes and thinking
Not the least bit about themselves
Like wild ducks are buoyed in the water.
To the sun-palace that we build
May the missions of lands unknown
Come over and across by Kose road
And may our own land last forever.
Even those wondrous tortoises
That bear diagrams on their shells
Tell of a new age arising.
And watching how one busily toils
Fixing the bundles of transported timber
Into the numerous rafts
To be brought upstream by Izumi's rivers
It must seem indeed of godlike motivation.