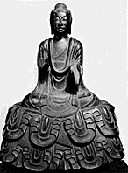 shijuhatai-butsu
("The Forty-eight Buddhist Images")
These are an assemblage of 59 miniature giltbronze Buddhist sculptures, produced at various times from the Asuka through the Tempyo Periods They were at one time in the possession of the Horyuji Among them are several which had been transferred there from the Tachibanadera in the 11th century They are presently housed in the Tokyo National Museum. The number "forty-eight," while inaccurate as a name for the present collection.seems to have been chosen as a reflection of the "48 vows of Amida"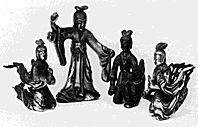 BRONZE FIGURES OF LADY MAYA AND HEAVENLY ATTENDANTS (TENNIN)
( part of the Shijuhattai-butsu)
first half of 7th century
This is an ensemble representing the scene of the birth of Shakyamuni (Japanese pronunciation: Shaka) from beneath the arm of his mother, the Lady Maya. Since the earliest days of the Buddhist faith in India, objects of Buddhist reverence in various parts of Asia have included, in addition to images representing the person of the historical Shakyamuni in idealized form. paintings and sculptures recalling the vicissitudes of the Buddha's life as given in the traditional accounts (butsuden). In Japan, however, the latter type of Buddhist art is unusual.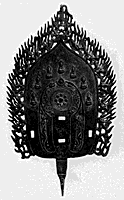 BRONZE NIMBUS (KOHAI)
(One of the Shijuhattai-butsu)
This is the halo for a Shaka image and was produced by O En son (Chinese pronunciation: Wang Yansun), perhaps a continental immigrant, in a year which, as designated in the Chinese sixty-year cycle by the characters kolin, could represent in this case either the year594 or the year 654. It is a so-called ikkosanzon-shiki halo, designed to enfold both a central image and attendant Boddhisativas flanking it on either side. Nimbuses which, Iike this one, have attached to them small Buddhas and heavenly attendants (tennin) are very often used with Buddhist images that, Iike the Asuka Daibutsu or the Shaka Nyorai in the Horyuji Kondo. draw on tradition of the Northern Wei.