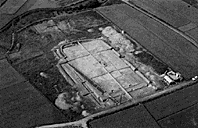 Sites of pagoda (foreground) and lecture
hall under excavation (background).
Historical Site Asuka-mura,

Koyama This temple, also known as the "Takechi Daiji," was the forerunner of the Daianji of Heijo-kyo (Nara). From historical references, it appears already to have taken form to a certain extent in the last years of Tenmu's reign (around 682),but construction work continued until the beginning years of the 8th century. During the Fujiwara-kyo period, it was designated as chief among the "official temples." It had a 7-story pagoda and was the largest temple in the Asuka region. It was lost to fire in 711,the year following the removal of the capital to Heijo (Nara).
Today one may see the remains of foundation platforms from the pagoda and lecture hall (kodo).The dimensions of the lecture hail (53 meters from east to west; 28.5meters from north to south) have become known from excavation studies. Also discovered were such artifacts as hanging metal fittings for wind-bells, and other ornamental metal objects attached to corner rafters.