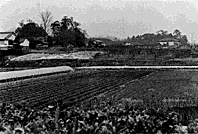 Site of Karudera seen from a distance
Kashihara-shi,Ookaru

This is said to have been the "clan temple" (ujidera) of the Karu clan. Judged from the designs on excavated tiles, it was built in the latter half of the 7th century. The Karu-no-ichi,a bustling market which had its heyday during the period when the political capital was located in the Asuka-Fujiwara region, is said to have been in the vicinity of this temple.