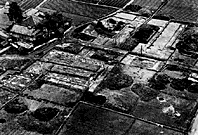 Kawaradera site under excavation, viewed
from the west
Gufukuji

The Kawaradera is considered to have had its beginning during the reign of Emperor Tenji (662-671), when the grounds of the Asuka Kawara-no-miya were converted to a temple. It was from the following reign of Emperor Tenmu, when "official temples" (kanji) were established and given economic support by the country at large, that Buddhism, centering around these "official temples," came to flourish as the national religion. The Kawarader~, designated as one of the "official temples,"was moreover counted among the "Four Great Temples" (see page 50). Excavation studies have determined that the temple had a stately arrangement of buildings (garan) whose architecture drew on influences from early Tang China. There was a pagoda, two golden halls, and priests' quarters surrounding the central grounds on three sides.
At present the original ground plan of the halls and pagoda is being restored. Agate-marble foundation stones from the central golden hall remain.