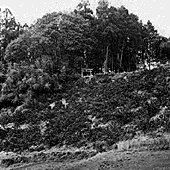 Site of Tachibedera (Jorinji),
seen from a distance
Historical Site
Asuka-mura, Tachibe (Doyama)

This temple is said to have been built by Shotoku Taishi. Its remains lie within the precincts of the present-day Kasuga Jinja (not to be confused with the larger shrine of the same name in Nara). Construction was probably commenced during the first half of the 7th century. Diagonally in back of the vestiges of a pagoda, there remain traces of a temple hall (do). Excavations have revealed fragments from the head and neck of clay boddhisattva images unearthed from the site of the pagoda, which has a deeply buried foundation stone.