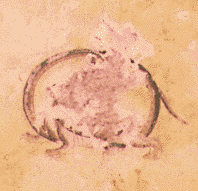 Genbu
("black [snake] combatting [a tortoise]")
STAR CHARTS (SEISHUKU)

The ceiling of the Takamatsuzuka crypt is dotted with small bits of gold leaf, which are in turn joined in various patterns by reddish cinnabar lines in such a way as to represent star charts. The precision with which these were executed is unparalleled among similar charts found in Chinese and Korean fresco-bearing tumulus graves.
In China, such constellation charts were meant to give a representation in the heavenly bodies of the earthly political organization with the imperial court at its center. The ceiling of the Takamatsuzuka chamber is faithful to this type of Chinese concept, with the central sector of the heavens sketched in the center and 28 constellations (the so-called niju-hasshuku) arranged on the four sides, seven to a side. This is an expression of the concept of rule over the entire universe by a "sovereign of the heavens" (tentei).