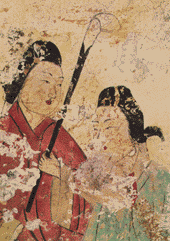 Drawing of female on west wall of
Takamatsuzuka crypt.
PEOPLE SHOWN IN THE FRESCOES
The males shown in the frescoes hold in their hands sunshades (kinugasa),chairs, and pouches containing swords and arrows, and also have pouches hung around their necks. The females carry round fans (sashiba),fly-swatters, Buddhist-related staffs of authority (nyoi).etc. Figures of both sexes depict handsomely attired attendants.
If one takes a close look at the facial outlines, it is seen that, in contrast to such drawings as the female portraitures in the Shosoin, which were executed In lines which have a uniform thickness and were simply applied in a single stroke, the Takamatsuzuka portraitures were done in modulated lines, the brush having been restrained or brought to a stop at essential points. This sort of technique, and also the overall structuring of the group portraits, give eloquent testimony to the influence of Tang Chinese fresco art.