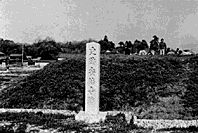 Site of Abedera pagoda,
following excavation study.
Historical Site Sakurai-shi, Abe

This was the ujidera of the Abe clan, a family which enjoyed great wealth and influence during the Asuka and Nara periods. It was built in the clan's home territory around the middle of the 7th century. Excavations have confirmed the remains of a pagoda and other buildings. The present-day Abe no Monjuin is a sort of latter-day descendant of the original temple.