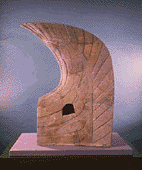 Ridge-end tile (shibi)
unearthed at Wada-haiji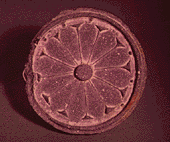 Kashihara-shi,Wada-cho

At the site of this "abandoned temple in Wada" are the remains of an earth platform. The theory once prevailed that this was the site of the "north pagoda" mentioned in historical accounts as having been built by Soga-no-Umako on the hill known as Ono-no-oka. However, recently the theory has gained strength that it was perhaps the site of the Kazurakidera, clan temple of the Kazuraki family. Excavations at the south side of the earth platform brought to light the remains of buildings and tiles from the first half of the 7th century.