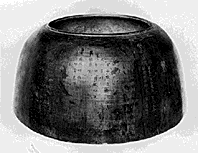 Fukubachi from Oobaradera
Historical Site Sakurai-shi, Oobara

From this site there remains a fukubachi (part of a bronze spire originally fitted to the temple's three-storey pagoda), now housed at the Danzan Jinja. From an inscription on it, we learn that the temple was built by Nakatomi-no-Oshima in memory of Prince Kusakabe, and that it was begun in 694 (eighth year of Empress Jito's reign) and finished in 715. Foundation stones remain on the sites of the pagoda and golden hall.